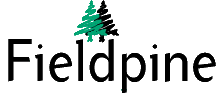 Library
All Configuration Guides
Common
Customer Create/Edit
Receipt Customisation
Emailing Receipts
Statement Customisation
Purchasing/Stock
Purchase Order Customisation
Send Purchase Orders
Cabinet Identification
Shelf Labels
Sales Processing
Capturing Return Reasons
Capturing Courier Tags
Payment Types
Infrequent
Using Memberships
Creating Agency Stores
Advanced
Using QR Codes
Custom User Interfaces
Automatic Loading
Setup
Managing Lanes
Installing Lanes
Network Security
Enabling HTTPS
Automatic Updates
System Backups
Securing your Systems
Barcode Scanners
Customer Displays
Public Product List
Scales
Email Accounts
Websites
Pre Install Planning
Creating a Franchise
Multi Retailer
Auto Setup
Addin Options
Multiple Departments
Xero Accounting
Stock Sync
Configuration guides cover how to setup and prepare your Retail System. This covers more technical system like functions such as installing the software, and also more business level functions such as creating new stores.
You may also be interested in How Do I? articles.
What Version I am Running?
Fieldpine PosGreen
If you are running Windows PosGreen at your checkout, enter the quickcode "123". A screen will be displayed that includes the program version, 2286 in this example. It also includes an optional user interface version and site version. The user interface version gives the version of the interface or screen. Site version is reserved for retailers to supply their own version, perhaps indicating changes in business logic or pricing.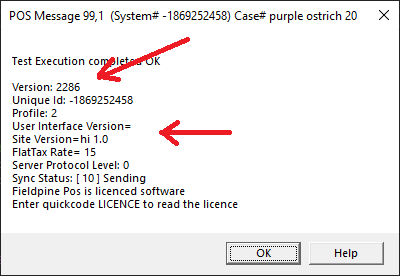 Fieldpine Reporting / Store Server
Browse to your reporting home page and the version is shown in the top bar

Note, if you are using Fieldpine Online the version may not show. You are unable to control the version for Fieldpine Online.
Excel Addin
From the main Excel page as seen when working on a spreadsheet, click "Addins", then "Global Data", then "Configure Server". A screen will appear that includes the version of your Addin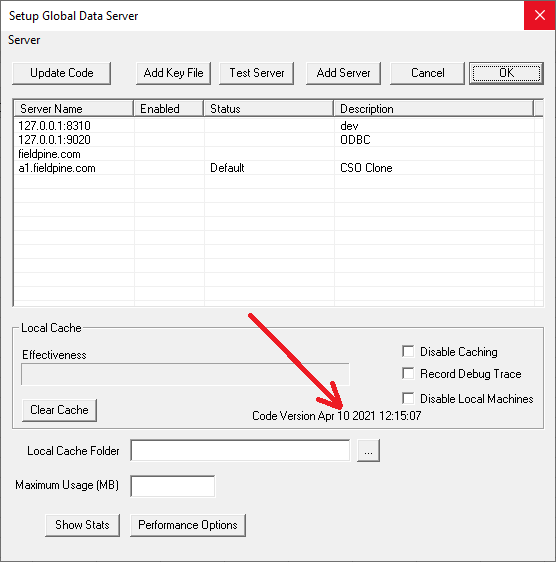 Updating Versions
Fieldpine PosGreen
Using the update program
Download and run Fieldpine_update.exe ( EU mirror )
This will display a screen similar to the following


Click the "Update Now" button beside the version you wish to install.
Tip. Cliking the "more" link at the top right allows you to see extended release notes and select a specific version if required.
Update using a QuickCode
To manually update the version of PosGreen to the latest version, enter the quickcode "F128" into the POS. This will download the updater program above and launch it. Should this code fail or appear to not do anything, then the likely cause is that security controls on your PC are blocking somewhere. Follow the steps above ("using the update program") to manually download and select the version to install.
Updating using Automatic Updates
Full details are available here.
Updating from a ZIP file
Advanced, technical. If you prefer, you can install from a zip file directly. Close the POS and unzip devgreen.zip into the target folder.
To see available versions and release notes, from the reporting home page browse to "lanes" and select "Bulk Install"
Fieldpine Reporting / Store Server
From the reporting home page, select "Code Update" which is in the "Technical Section". This page has options to update your server.
Note, if you are using Fieldpine Online you cannot alter the version. The menu options may show but are disabled.